At the western end of Florida's 'Forgotten Coast' is a fidgety hook of sand known as Cape San Blas. Its shape will depend on your map. Over the centuries, the southern tip of this feature has built up and washed away repeatedly under the stresses of nature. A constant current from the north carries sand southward and elongates the cape into a sharp tooth, while powerful storms like Hurricane Michael in 2018 cause it to collapse, redistributing sand to the east and extending the beachfront facing Bay San Blas.
The constant changes leave shoals that make navigation dangerous to ships, and since 1849, four different lighthouses have stood on the cape. Hurricanes destroyed the first two almost as soon as they were completed. Confederate soldiers in the American Civil War looted the third before it fell victim to coastal erosion in 1882. By the time a fourth tower was built in 1885 (built of iron instead of brick), the remains of the third were 400 feet offshore. The fourth tower required relocation several times – once even plucked right out of the ocean following a storm – until it was finally retired and moved to the town of Port St Joe in 2014, for posterity.
Even without the lighthouses, the area remains a treasure trove of historical goodies. The Weeden Island Culture left ancient shell middens just north of the cape at Richardson Hammock. To the east, along St. Joseph Bay, are the brick ruins of an old Confederate saltworks that supplied the army with salt taken from evaporated seawater. When the Union attacked and destroyed the site in 1862, it dealt a blow compared to the fall of Charleston, South Carolina.
In the 1950's, the Air Force built a facility to supplement radar and missile testing from nearby Eglin Airforce Base. It functioned in a chain to help track Cold War missiles test-launched between Destin and Key West, and was itself a launch site through the 1960's. Thirty years later, state-funded Spaceport Florida (now simply, Space Florida) wanted to use the cape as a compliment to Canaveral for launching commercial and university-led aerospace projects. While they managed to launch a 10-foot, suborbital rocket with a weather probe for Florida State University in 1992, the idea never really took off.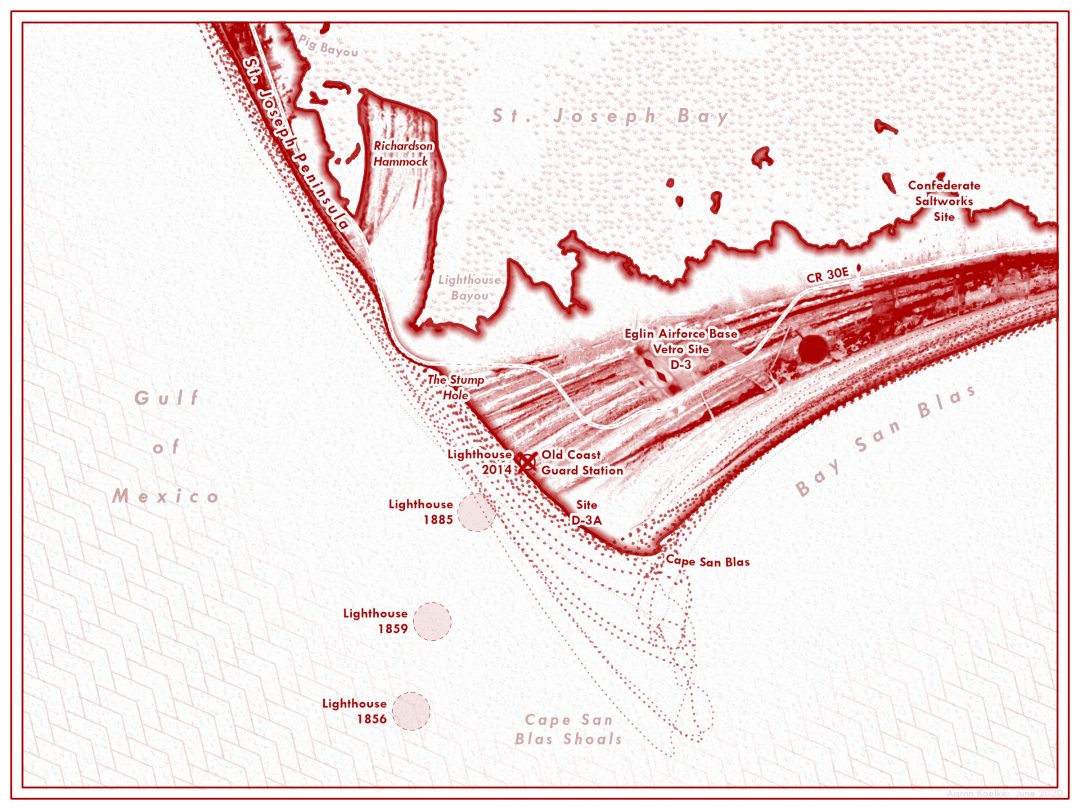 Today, Cape San Blas is partially open to public exploration. "The Stump Hole", a roadside pull-off for local fishermen and shell-hunters, describes the mass of twisting, broken trees that stretch down the western side of the cape. The ocean continues to eat up the land along this stretch at an average rate of 3 feet per year. From there you can get to the cape on foot. Folks with 4×4 vehicles are able to drive from nearby Salinas Park, as Gulf County is one of the last places Florida to allow vehicles on beaches.
Read more about coastal erosion at Cape San Blas in this story map.